Oil-immersed Transformer, Shunt Reactor

Generator Step-up Transformers for Power Stations (GSU)
Generator step-up transformers, which boost the output voltage of generator and transmit the power to the grid, are very important components in power stations. Current value of primary low voltage side is so high (more than 30kA), and these transformers are operated in high load usually. So, local heating of the construction parts (tank, frame, etc.) caused with magnetic field and expected life of insulating materials must be carefully taken into account in the design and manufacturing. Fuji has rich supply deliver records of these highly reliable transformers for Japan domestic electric power companies and also overseas power stations.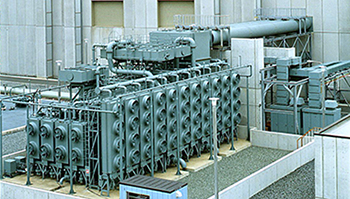 Three Phase Transformer
– Rated voltage; 19.5 / 280 kV
– Rated power; 1100 MVA
Cooling; ODAF
Distribution Transformer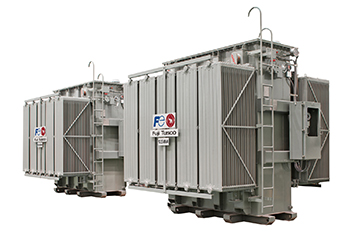 Distribution Transformers up to 30MVA , 36kV, Hermetically Sealed with Nitrogen Gas Filled type, Less Flammable Fluid
Step-down Power Transformers for Substations
Step-down power transformers, which transform UHV/EHV to EHV/HV and distribute electricity to the consumers side, are the key equipment in substations. Highly reliable insulation, great short-circuit withstanding of windings, are required. Fuji apply various computerized analysis technologies for transformer design. As a result, many of high performance transformers have
been supplied to worldwide by Fuji including 765kV voltage rating.
Single Phase Autotransformer
– Rated voltage; 765 / 400 / 33 kV
– Rated power; 2000/ 3 MVA
ONAN / ODAF
Shunt Reactor
In long-distance transmission lines and/or cable transmission networks, system over voltage problems break out sometimes. They are caused by capacitive reactive power in the systems particularly with no (or light) load condition. Shunt reactors, connected in parallel to transmission lines, are able to compensate these capacitive reactive power and suppress over voltage phenomena, so they improve system voltage stability. Fuji produces shunt reactors which have advantages such as low-loss, low-noise, and high-reliability by means of adopting radial-core and other technologies. We delivered many shunt reactors for worldwide customers including 765kV voltage rating.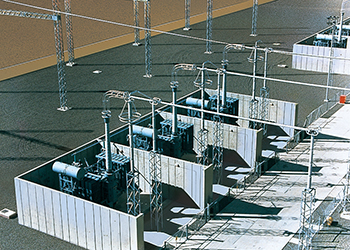 Single Phase Shunt Reactor
Rated voltage; 765/√3 kV
Rated capacity; 400 Mvar (Bank)
Cooling; ONAN